There are many ways one can appreciate BEAUTY.  To each individual, there will be a multitude of things (or people, or candies, or flowers) that they find "beautiful".  Each of us has our own sense of beauty.  Everyone's soul is affected by something different.  I find that music is one of the key factors for me.
Not one specific type of music…I tend to like all manner of different styles (except Jazz – just can't wrap my head around that genre).  Some days I like to do housework to the widow rattling techno-dance beats.  Other days, I putter around the kitchen to metal such as Nightwish or TSO (Trans Siberian Orchestra).
This morning's Facebook feed happened to have a video clip of Sung Bong Choi on it.  http://www.youtube.com/watch?v=BewknNW2b8Y
If you are not familiar with him, he's quite the Internet sensation.  A 22 year old orphan in Korea who decided that he loved to sing and made his way onto "Korea's Got Talent".
I would think that most folks are aware of the "talent" shows – American Idol, Canadian Idol, World Idol, Britain's Got Talent, and so on…and if you take a moment to look at what's going on there, you'll see that there are some absolutely AMAZING talents being shown off to the world by way of televised competition.   The same can be said for Susan Boyle, Paul Potts and Kurt Nilsen.
Susan Boyle's first BGT – http://www.youtube.com/watch?v=L8P9d0zGZl4
Paul Potts' initial appearance on BGT – http://www.youtube.com/watch?v=1k08yxu57NA
Kurt Nilsen wins World Idol – http://www.youtube.com/watch?v=RxoJnY_uNQY&feature=related
It's the initial shock that really gets to you in these first tentative steps into fame – Susan Boyle, a cat lady and choir singer from a wee-little village that 99% of the world couldn't find on a map.  Paul Potts, as Simon puts is "you did THAT".  Kurt Nilsen, a plumber from somewhere in Norway belts out one of the world's favorite songs.
For me, personally, it's the raw power of their voices.  Being a bit of a popera (popular opera) fan I can sit and close my eyes and just let the strength of their music wash over me.  It's also interesting to note, that if I happen to have a bit of their music on my mind when I trot off to work that the uplifting feel of the songs tends to stay with me all day.  I'll wander through the store (at my day job) humming the tunes that I was listening to with my morning cup of Joe.
One of my favorite Facebook Pages is a group called BBW Wellness.  Here's a bunch of girls that have banded together to love, support and encourage one another – regardless of their size.  As I was saying – beauty is in the eye of the beholder.
Here's interesting video – also from Korea's Got Talent – that the girls at BBWellness had posted.  Her name is Park Jin Young  and she's in high school….I did try to find one with English subtitles, but struck out.  Even though the commentary is in Korean, you will definitely get the message!
Park Jin Young – Korea's Got Talent http://www.youtube.com/watch?v=3wuAHWnHIUc
Here's another BEAUTIFUL thing.  Park Jin could hide from her size, she could crawl into a small vat of Baskin Robbins and stay there….but she doesn't.  Someone, somewhere, somehow told her she was BEAUTIFUL and that little bit of self-esteem boosting information stuck.  Take a look at her now!
The base point in all of my video linking (with luck, I've given proper credit where it is due!!) is that you really NEED to take a couple of minutes every day and find something BEAUTIFUL.  It doesn't really matter what it is.  You and your soul need it.  The cares, worries and day-to-day hangups that get in your way will simply disappear (if only temporarily) if you take the time to nourish YOU.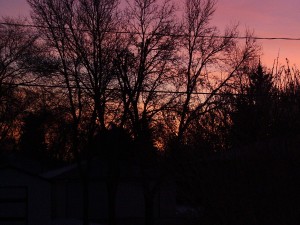 I happen to live where the skies are simply breath taking.  As I ventured outside for my morning smoke (yes, I know, eeewwww) this is what I happened upon today.
As I get ready for work (off to the day job today) this image will stay with me for the rest of day.  If I happen to have a rough few minutes with a customer, or my day just simply doesn't go as planned, I'll stop – take a deep breath – and relive this image from earlier.  It's a very SMALL exercise in meditation, but it's a little something that will remind me of the beauty that is everywhere.
So as you wander off through your day, remember to just take a few minutes, breathe and relive a beautiful moment.  It could be a particular song, it could be a particular image, it could be a very small moment that simply made you smile.  Hold on to the beauty of it – it will make your day.
Rational, Positive, Creative – always