There's a certain philosophy involved in calling one's self a Hippie.  To some, it's an entire realm of anti-establishment beliefs.  To others, it's a movement – born in the 60's, held over through modern times.
To me is a simple, natural, inexpensive way of doing things.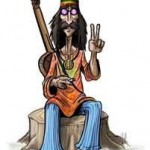 As a child of the 70's with both parents being career minded individuals, my sister and I were pretty much brought up never having wanted for anything.  The life lessons that are usually passed from parent to child were present, but only in small amounts.
My first realization that I had missed out on certain things was standing in my first apartment, with my first room-mate, and looking at the large white box in the corner of the kitchen.  When I asked my roommate what "that" was, she looked at me like I'd lost my mind.  "It's a stove, stupid".
It was glaringly apparent that I had missed something along the way.
So, now that I had figured out that the family housekeeper does NOT come with your first apartment and that toilet paper did NOT miraculously arrive unbidden to the holder,  I had a little real life catching up to do.
Since then, I've made a point of never closing my mind to anything that could bring me information.  Learning how to cook was the start.  Learning how to survive has been the daily lesson ever since.
As with many,  life tends to get in the way of things.  Marriage, children, keeping everyone clean and fed on a daily basis takes over everything.
But it's the little things you collect along the way that truly count.  For instance, doing something out of dire necessity and then realizing that the end result is far better for you, your health and our world.  A prime example, mayonnaise.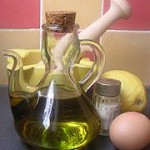 Yes, mayonnaise.  Sounds right silly, eh? (there you have it, 100% Canadian)  I had run out of mayonnaise.  Two babies in the house, oldest child in Kindergarten, husband at work, no vehicle, lived in a house on the hill and the LAST thing I felt like doing was loading up a HUGE baby stroller and stomping all the way downtown to buy mayonnaise with the two dollars I had in my purse.  So, what to do?
While the little ones were sleeping (a grace period any parent appreciates) I took the opportunity to flip through old cookbooks that belonged to my grandmother.  Having learned ( a few years prior) how to the work stove, cooking had become a bit of an enjoyment and I'd taken to collecting recipes.  Lo and behold!!  A recipe for mayonnaise!
Eggs, oil, salt, sugar, dry mustard, lemon juice, vinegar.  That's it.  Everything needed to make something I had never given a single thought to.  The first attempt, was not so great.  Bit of a soupy disaster, but I soon discovered that a hand-blender (just about everyone has one) is the key.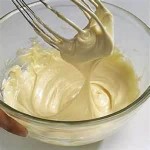 To get the mayo to set properly, you need to whip it at high speed.  It takes less than five minutes, all ingredients are generally in the cupboard at any given time, I know EXACTLY what's in it, and I don't have to go to the store to complete my tuna salad.
The point?  I already have everything I need.  I don't need to spend more money on something I can do myself.  AND – here's the really cool part.  It's environmentally intelligent.  No output (car, time, cash).  No waste (more packaging to get rid of).  And for the truly die-hard anti-establishment types – no input to the corporate giants!
Little things definitely make the biggest difference.