Yes, I know….anyone that has survived the 70's and 80's is familiar with Rocky Balboa and his adventures. This tale is slightly less romantic, certainly not nearly as dramatic, but significant in its own way. I actually submitted this article to the Chicken Soup for the Soul publishers, but sadly I did not make print. I suppose this is what I finally decided to do with my Hippie Ways site. An online journal of sorts. A way to tell the stories that surround my family, our lives and to lend a little immortality to the tales that make us unique.
My Mother's Legacy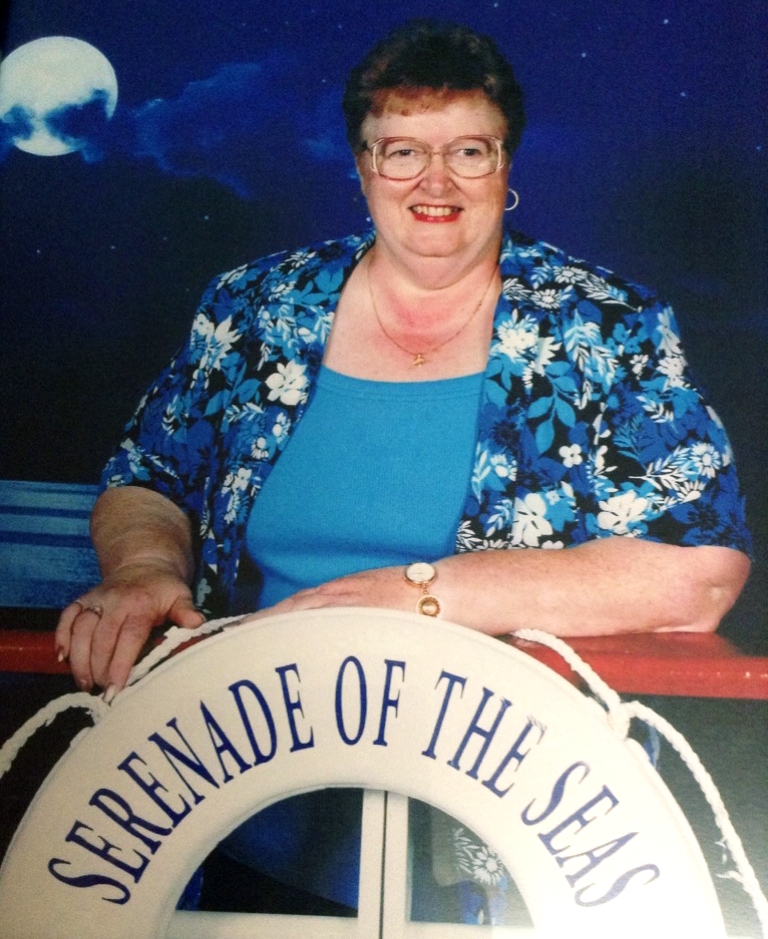 In early June of 1980 I came home from school and as most teenagers do, paid absolutely no attention to anything other than a quest for food. By supper-time my Mother was not home from work and this was unusual. When questioned my Grandmother slowed her kitchen puttering long enough to look at me like I was completely stupid and simply said "Hawaii".
In a week's time Mom returned from her first of many travels to a pair of angry teens still pouting over not having been invited. It was late July before the strangest of souvenirs would come to light. As the story goes she'd been shopping at the International Market in Honolulu. A "tick, bounce, tick" type sound caught her attention. She looked down and spied what seemed an interesting stone. She picked it up, popped it in her purse, and carried on with her shopping expedition.
Mom was showing off her rediscovered treasure. Grandma gave her the "you're an idiot" look and insisted it was a seed. Mom insisted that it was a rock. No, it's a seed. No, it's a rock. This went on until my Grandmother produced a small pot with some soil in it. Challenge accepted!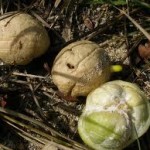 Sure enough – poink! Two long, thin leaves, then two more. September the following year, Mom's career took us to a different town and her strange little sprout to a new window.
Time goes by, angry teenagers grow up. I moved to the big city. My sister went to college. I married and produced grandkids. My sister built a career and she and Mom would travel together regularly. My Grandmother aged and Mom looked after her as long as she could. After Gram's passing, Mom travelled more than ever. All the while, the strange plant sat in its window and grew.
In 1995 Mom moved into a nice, adult complex. After fifteen years of moves, condos, and North/South/East/West facing windows the funny plant with the long green leaves was still there. It had become a running joke that Rocky, so named for it's argumentative beginnings, MUST be magical. It's the only plant ever to survive Mom's care.
In September of 2008, I received the phone call that every child dreads. Mom's sick. My sister had traveled from Vancouver for a visit. She arrived to find Mom had been under the weather and decided to stay and help out until Mom got back on her feet. On October 17th, 2008 Marian E. Lalonde (Bette, to her friends and colleagues) left this world. Our small family was now short one wandering leader.
Through breaking hearts, details, and paperwork that accompanies a life changing event like the loss of a parent Rocky stood silently in his dining room window. We sorted and cried. We sold and cried. We packed and cried some more. Friends would come to sip tea, help pack and offer their sympathies. Mom's closest friends were given small treasures that had once belonged to an amazing woman. On December 1st, 2008, my sister and I closed the door to our Mother's apartment for the last time.
It was agreed that Rocky would come with me. The strange, leafy plant held more meaning for me than anything else that had belonged to my Mom. Rocky accompanied me back to Alberta, and then to Saskatchewan in the summer of 2009. All the while, patiently waiting for us to settle into someplace we would call home.
Just before Christmas of 2012, Rocky's leaves were showing some sort of problem. The only thing I was certain of was he had been smuggled from Hawaii 32 years earlier. The grace of the internet introduced me to the National Tropical Botanical Gardens in Kalahea, Hawaii. (https://ntbg.org/) I sent off an e-mail to them hoping that they could: a) identify Rocky and b) figure out what was wrong with him. I didn't really expect a reply, but figured it was worth a shot.
The very next day…a reply!! The kind administrator advised that she would forward my note to one of their senior people and wished me good luck. Twenty-four hours later, the Director of Sciences, Dr. Lorence asked me for photos and stated he would try to help.
Convinced Rocky was dying I sent off some 50 photos and waited. Several days later Dr. Lorence replied that he wasn't too sure what the problem was, but it didn't appear to be serious. He couldn't really DO much, but he was willing to make a few suggestions. He did, however, tell me that Rocky is a type of CRINUM. Very common in Hawaii but unless it bloomed he couldn't fully identify my strange plant.
Content with the Doctors orders, to the hardware store I did venture for a MUCH larger pot and GOOD quality potting soil. $47.00 later and a fair bit of cursing, Rocky was re-potted and set back in his corner to recover.
After about a month, he was perking up a bit. The spots on the leaves weren't really getting any better, but the upper leaves were starting to grow again. Sometime near Easter a little nub-like "thing" appeared. Another week goes by and sure enough – this funny little thing is getting taller. And taller…
So I rifled off another e-mail to Hawaii with more photos. After all these years, Rocky was beginning to blossom! I didn't do anything special. I just put him in a larger pot with good soil and stayed out of the way. When the delicate white flowers emerged I once again sent photos to Dr. Lorence.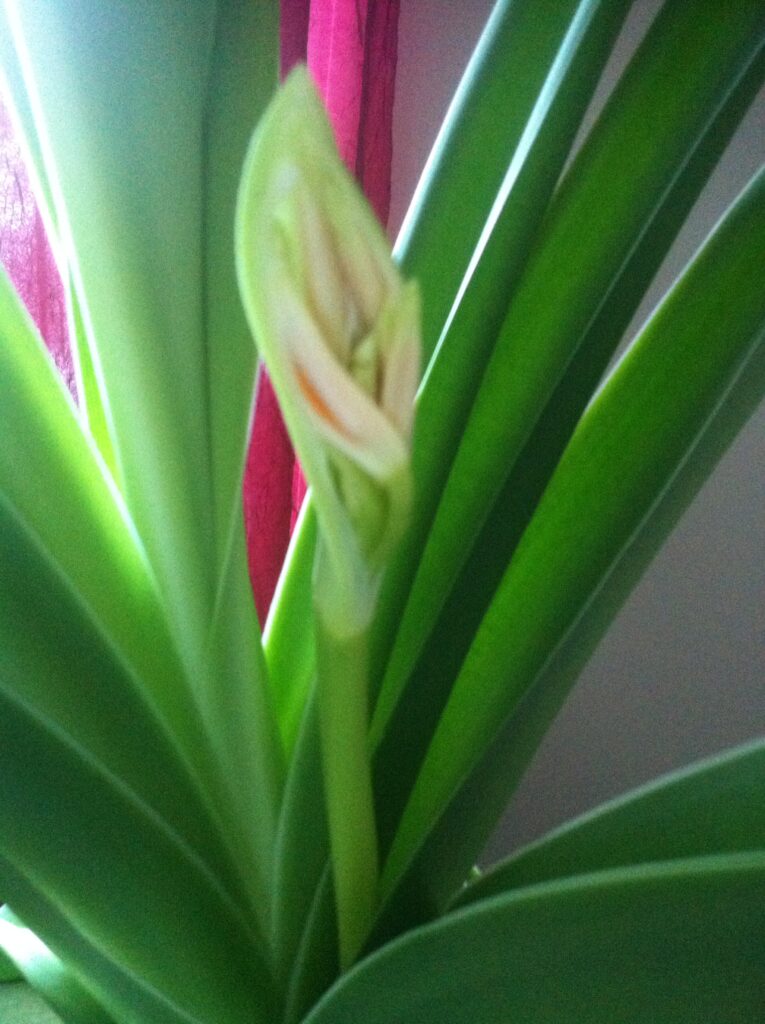 By June of 2013 Rocky was in full bloom. As the exotic scent filled every corner of my living room I plopped down on the sofa next to this precious plant and sobbed my heart out. I wept with joy for this magnificent flower, I cried that Mom was not here to see it.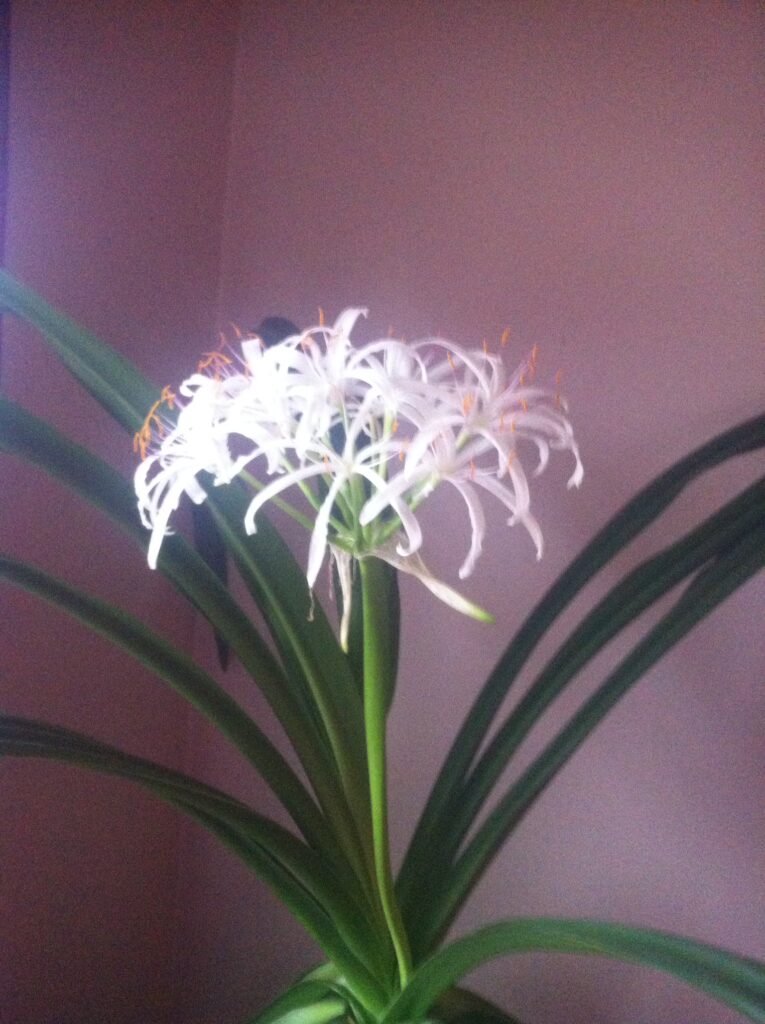 Rocky is a Crinum Asiaticum. Commonly known as a "Queen Emma" lily in places like Hawaii, Australia, or the Caribbean. In a north facing window in SE Saskatchewan Rocky is not only an anomaly – he's an heirloom.
The summer of 2013 is the FIRST TIME he had blossomed. Rocky has since bloomed every six months since my panicked e-mail to Hawaii. The first blossom set a seed and the telltale "tick, bounce, tick" signalled the beginning of a new chapter. This seed has now sprouted to an exact copy and was gifted to my son and his wife.
Rocky has seen many things since the kitchen challenge of 1980. He is now 40 years old. He has been there for every major event in our small family. Graduations, weddings, divorces, the birth of my children, my Grandmother's passing. He has seen my children's Graduations, finding their mates and the birth of MY grandchildren. I often wonder if Mom isn't the guiding hand behind his continued blooming.
Rocky is not only my Mother's legacy he will be mine as well. A strange one, indeed, a legacy, nonetheless. A living testament to the cycles of life. Proof that as long as you grow and believe in the simple power of love you NEED nothing else.