Our skin is out largest organ.  We probably should look after it better than we have been.
Blended BY a HUMAN, for humans…my bathing salts are crafted from only the simplest of ingredients.  Pure Sea Salt, 100% Epsom Salt, FOOD GRADE ingredients and therapeutic grade essential oils.
I absolutely refuse to use "fragrance" or "perfume" or "scenting oil" in my salts, since I firmly believe that these are false ingredients and contain zero health benefits.
Crafted with Sea Salt, Epsom Salts and Himalayan Pink Salts I developed this soak to relax the body and refresh the skin.  Here's a quick link that will give you run down on these amazing high altitude salts – 10 Amazing Benefits 
Since the availability of certain essential and floral oils may vary from time to time the selection will be an ever evolving treat.  I will post new finds, try to maintain old favorites and bring forward new and exotic wonders.  If you have a "MUST HAVE" scent – let me know, I'll see if I can find it for you!
Ultimate Detox Blend.  A specially prepared blend of Himalayan salts, Epsom salts, sea salt, sodium bicarbonate (baking soda), dried & powdered eucalyptus and peppermint leaf.  To ease the stress of daily life and help flush toxins out.
500 grams – re-useable glass jar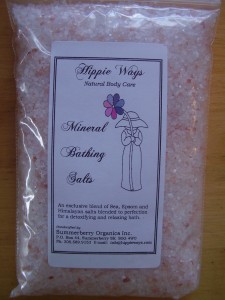 Mineral Bathing Salts – 250 gram, unscented
My personal blend of Sea Salt, Epsoms Salts and Himalayan Pink Salts.  Relaxing and refreshing.
$6.50
Currently available scented blends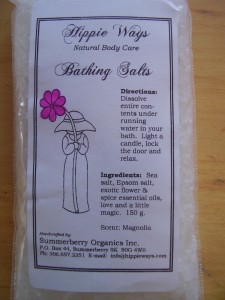 Magnolia
Imported from India, the purest of floral oils
$4.75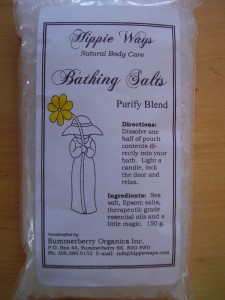 Purify
In your face citrusy, bright, refreshing
$4.75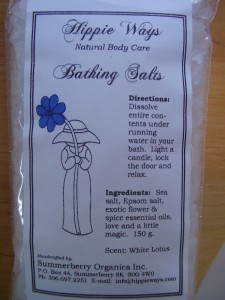 Blue Lotus
SOLD OUT!! Heavy floral, exotic, almost erotic…
$4.75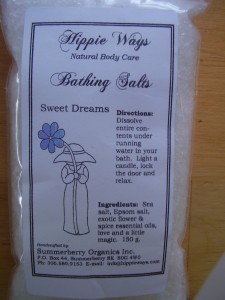 Sweet Dreams
My own special blend of Honeysuckle and Lavender
$4.75
View your shopping cart here…