Exfoliation is an important part of any skin care routine.  Sloughing away dead skin cells helps to maintain a youthful radiance.   Buffing the dead skin away will keep your pores from clogging which keeps acne under control.
Exfoliating will also speed up your skin's natural renewal process and helps your moisturizer penetrate into the skin deeper
It removes dead skin cells helps with skin discoloration (uneven tone) and will keep your skin visibly brighter skin helping to keep fine lines and wrinkles in check.
Hippie Ways Scrubs are micro-crafted in small batches with FOOD GRADE ingredients.  There's no need to worry about what's in it….
You may not want to eat the Refreshing Foot Scrub…it does contain sand.  🙂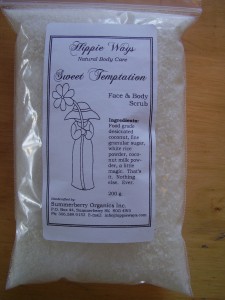 Sweet Temptations Face & Body Scrub
Crafted with coconut, rice, coconut milk powder and fine granulated sugar.  That's it.  Nothing else.
200 gram pouch
$10.95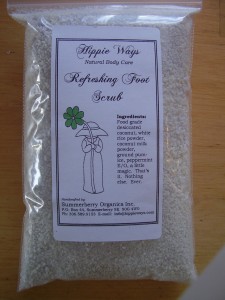 Refreshing Foot Scrub
Formulated with the same coconut base as my signature Body Scrub…but with a kick.  Ground pumice and peppermint essential oil.  Soothing, cooling, a MUST for tired and calloused tootsies
200 gram pouch
$11.95
View your shopping cart here….