I would be MORE than happy to discuss a highly personalized edition to your body care routine.
If you have allergies or sensitivities to certain things, don't hesitate to ask questions.  I am currently formulating a special package for a client that has extreme allergies.  I am also willing to work with your particular preferences by way of scenting.  I keep a fairly good selection of essential oils, and can quite easily obtain favorite scents.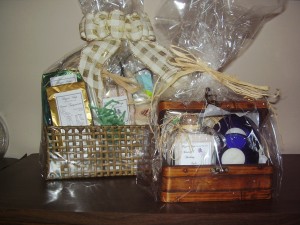 If you would like to order a gift basket, I would be pleased to consult on any special order.  Wedding or Baby Shower gifts.  Graduations, or just "I Love You" baskets.
Don't hesitate to ask questions!!  I am ALWAYS open to communication and love to work up a creative frenzy!
Gift baskets and special orders will be priced accordingly, and the final price will be agreed on PRIOR to completion.  This way, there's NO surprises at the check out!